"Living Irpinia through itineraries, events and tastes, with the welcome and the emotions of a land that slowly reveals its special soul." In one of the most beautiful Italian provinces (Avellino), a territory to visit to discover the richness of the inner areas "heart of Campania". The peculiarities of the territory can meet the needs of the traveler, be it tourists resident, attentive to the quality of life, the excellence and the typicality. Peace, tranquility, order, the receptivity, the good food and wine quality, the reception of a hospitable people, characterize this land to be discovered. A weekend in Irpinia to live at any time of year because each season has its own charm, its typical product, its events, its own tradition. A weekend, but also several days in contact with nature, art, traditions and food and wine, spas, culture, archeology; the tranquility of places where you feel closer to nature and relax throughout the year, a historical and archaeological heritage, museums, castles and folklore always switched from folk festivals, stories and ballads. Not least the invitation to the dinner tables with the warmth of our people and the quality and authenticity of our quality food and wine and certified (DOCG, DOC, DOP, IGP, IGT).
Sanctuary of Montevergine 
The building, the Roman architect Florestan Fausto, which began in 1952, was opened for worship in the Ascension day of 1961. It is one modernized Romanesque style, with three naves. In its simplicity and purity of the architectural lines is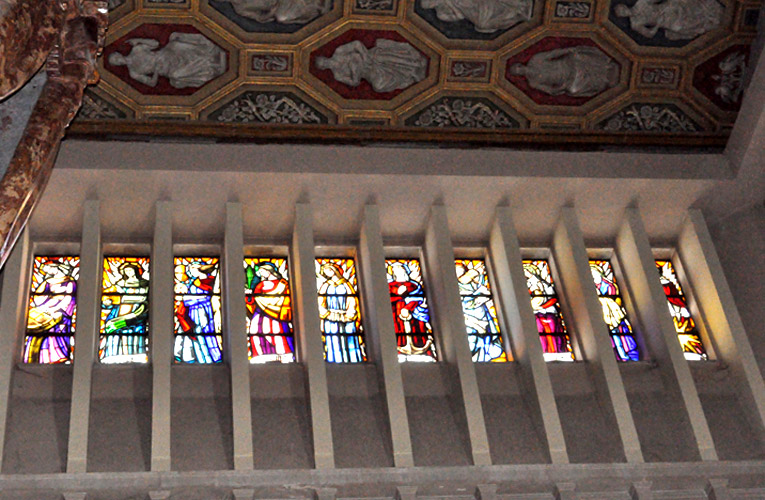 a real monument to faith and Art, at the bottom of the nave, beneath the lantern, there is the wide Presbytery, lined up, two women's galleries and the majestic organ. Below, the simple and modern chorus in walnut and burl olive. Against the back wall stands the monumental Throne where the miracle-working image of the Virgin is located. It is a beautiful painting of two pine planks, the end of the century. XIII: one of the most beautiful images of Madonnas Italic. The work is commonly attributed to Montano d'Arezzo, a painter of the Angevin court. The Throne is made of polychrome marble, ancient and modern, and statues and bronze reliefs, on a monochrome mosaic background, work of J. Hainal.